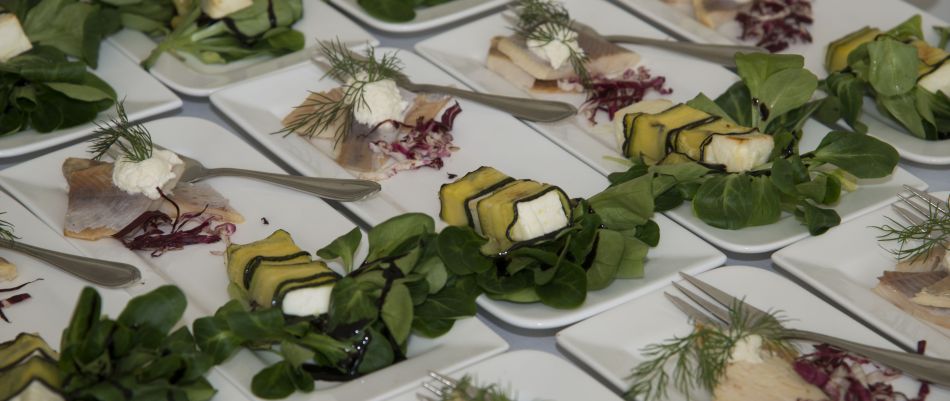 Catering
TUM Science & Study Center Raitenhaslach offers various catering packages in line with your wishes and the event in question. Moreover, we will gladly organize the entire catering for our guests – allowing you to relax and focus on holding a successful event.
From the morning coffee break to an evening gala dinner – you are in good hands with our catering team. The food and drink plan can be specially coordinated to your needs. Regional specialties and foods are a major focus of our catering, though we also enjoy fusing this local fare with international cuisine.
On the ground floor of the TUM Science & Study Center, the monastery architecture of the arched hall and vaulted hall offer the ideal surroundings for serving your guests in style. The historical Gartenstöckl is a unique location available for coffee breaks and smaller receptions.


The arched hall on the ground floor is the convivial heart of the Science & Study Center. This is where seminar groups come together for lunch and dinner. The informal atmosphere of the room makes it a great place to continue discussions or forge contacts. This hall also plays host to festive gala dinners, company events, birthdays or association celebrations. The timeless, modern and simple interior is reminiscent of a monastery refectory.
Details:
Capacity: seating for 112
Seating: fixed, tables with two benches each with three seats, individual chairs; buffet tables on request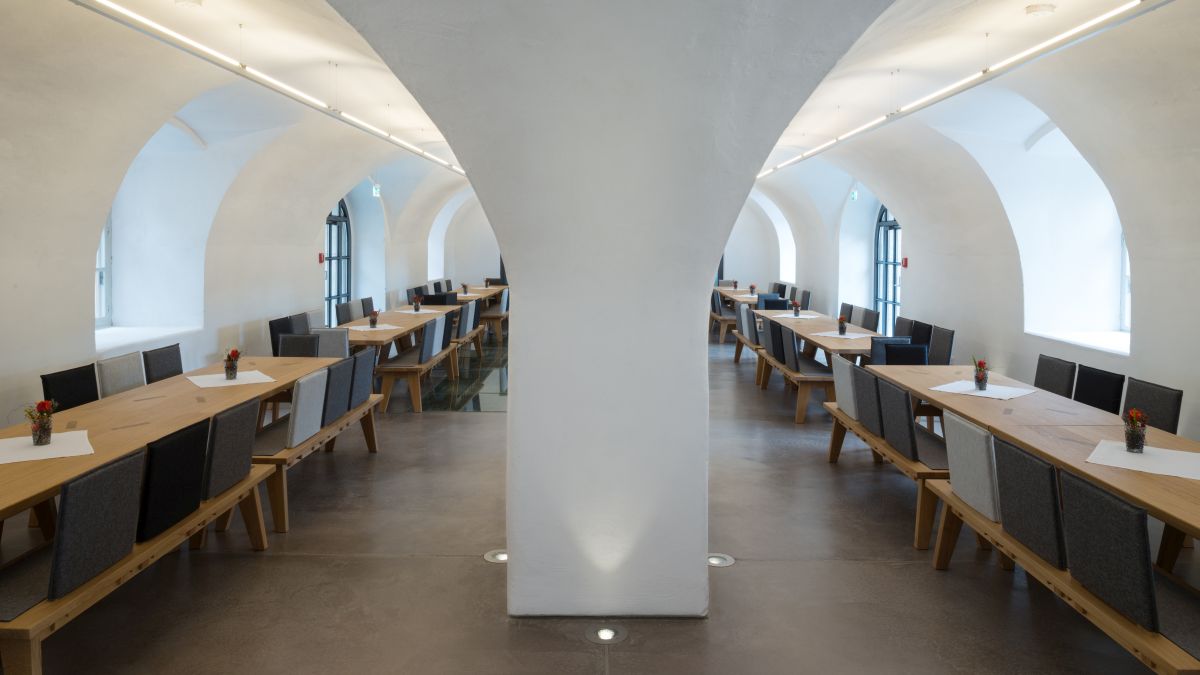 The vaulted hall served as a wine and beer cellar during the monastery era – today it operates as a flexible events space. The room is just as well suited to coffee breaks and stand-up receptions as it is to exhibitions and poster sessions.
Details:
capacity: approx. 110 people standing
seating: flexible, buffet tables on request
optional equipment: whiteboards for poster session


The so-called Gartenstöckl, a vaulted corridor used as a winter garden nowadays, is located at the southern end of the TUM Science & Study Center. The preserved frescos in mellow green tones bathe the room in a unique light all year round, while the café seating makes it an inviting place to take a break between seminars.
The Gartenstöckl also leads out into the prelate's garden. From here, the views extend over the wooded slopes down to the shore of the Salzach. On balmy summer evenings, the terrace and garden are the ideal place for welcome receptions.
Details:
capacity Gartenstöckl: 30 people seated (café seating)
seating: flexible
bar area in the adjoining room with seating (approx. 10 seats)