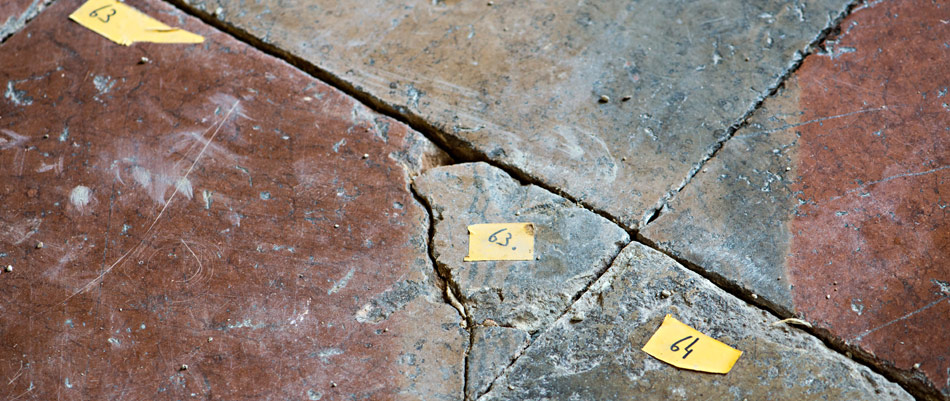 Building research and restoration
Breathing new life into the over 200-year-old prelate's wing of Raitenhaslach monastery – that was the aim of the restoration work which began in 2013 and was completed in 2016. The development approach committed to preserving, securing and restoring as much of the historical building structure as possible as well as laying the groundwork for its contemporary use as a science and study center. Modern additions were integrated carefully and designed in a timeless aesthetic wherever possible.
The City of Burghausen carried out the restoration and equipping of the former monastery together with the Technical University of Munich (TUM). The work was also completed in close cooperation with the Bavarian State Office for Monument Protection.
Bayerischer Rundfunk, the major Bavarian broadcasting company, accompanied the work in the prelate's wing. You can watch the videos online (in German):
Securing and restoring the structure in line with monument preservation guidelines
Whether the walls or ceilings, the windows or doors, the historical fabric of the building remained largely preserved as part of the restoration work. In the ceremonial hall, the walls were cleaned but not freshly whitewashed if the original wall color still remained. The late-baroque ceiling and murals were only retouched and augmented in special cases. Damage to the historical wooden floors was repaired with lighter wood, allowing visitors to clearly recognize the difference to original elements. Even old wood nails were returned to their original positions after the restoration.
Restoring historical building and room structures
Several changes made in the past 200 years were reversed – such as a dividing wall in the vaulted hall. The original window openings were also restored.
Equipping the building for future use
The careful modernization work satisfied the highest monument preservation standards – the sensitive ceiling frescos in the ceremonial hall are to be preserved by constantly monitoring the climate within the room and any excessive heating being avoided. The modern lighting system in the ceremonial hall withdraws behind the ceiling cornices when it is not in use. As a result, the lighting system is hardly visible. Historical windows received a second, outer window pane, allowing the original window frames and panes to remain intact. The location of each individual floor slab made of Adnet marble was recorded before each one was removed to install utilities and underfloor heating. The slabs were then subsequently replaced back to their historical location. The modern building technology is housed in a newly-built cellar space below the large courtyard.
Constructional support and static reinforcements
Whether the roof structure or the foundations – constructional support and static reinforcements were required in a number of areas. For instance, the largely wooden tie rods were rotten. These held the outer walls in the ceiling between the ground floor and ceremonial hall together. The walls threatened to fall outwards, so the old tie rods were replaced with steel ties.
Scientific groundwork
Several TUM chairs conducted research into the building history and structural condition of the prelate's wing before the restoration and produced a utilization plan: