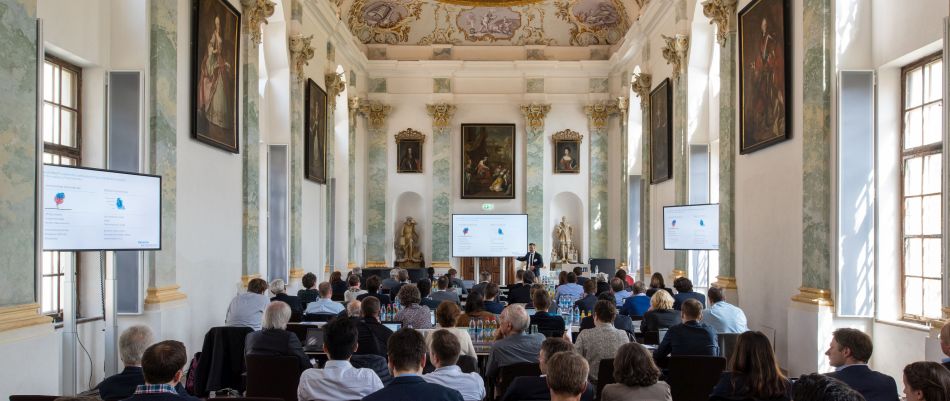 The ceremonial hall – Aula maior
If you succeed in opening the heavy doors to room A103 unknowing what awaits behind them, you may be in for a surprise: It's the ceremonial hall, the Aula maior, which is the undoubted highlight of the Science & Study Center in terms of its art history. There is no better place to soak up the atmosphere of the TUM conference center than under the ceiling frescos painted by Johann Martin Heigl.
Stant cuncta labore is the phrase on the ceiling fresco: Work makes everything endure. In line with this motto of the Raitenhaslach Cistercian monks, the Aula maior is now once again a place of innovative intellectual work, academia and arts after a long, deep sleep.
The ceremonial hall is 191 square meters in size, and has enough space for up to 180 people depending on the seating arrangement. In addition, the room can be split into smaller spaces using two mobile separating walls. This stunning space is particularly well suited for national and international conferences, symposiums and panel discussions. The room is also the perfect place to host celebratory functions and company anniversaries.
A special lighting concept was developed in step with the importance of the ceremonial hall: When the lights are not in use, they withdraw to behind the ceiling cornices, ensuring that they do not disturb the historical impression otherwise created by the space. The Aula maior's extraordinary decoration also requires special care: The original preserved ceiling frescos from the 18th century are so sensitive that the room cannot be used from mid-December to mid-March.
A103 Aula maior – 1st floor
floor space: 191 m²
length: 21.98 m
width: 8.69 m
capacity: max. 180 people
seating: flexible
basic equipment: sound and lighting equipment; optional: speaker's desk, oval conference seating with conference microphone system, three monitors, two mobile separating walls, whiteboard with flipchart, moderator's kit